Getting Ready for Kindergarten
Posted: | Updated:
Summary: Information for families with students starting kindergarten at Arbor Heights in September 2022.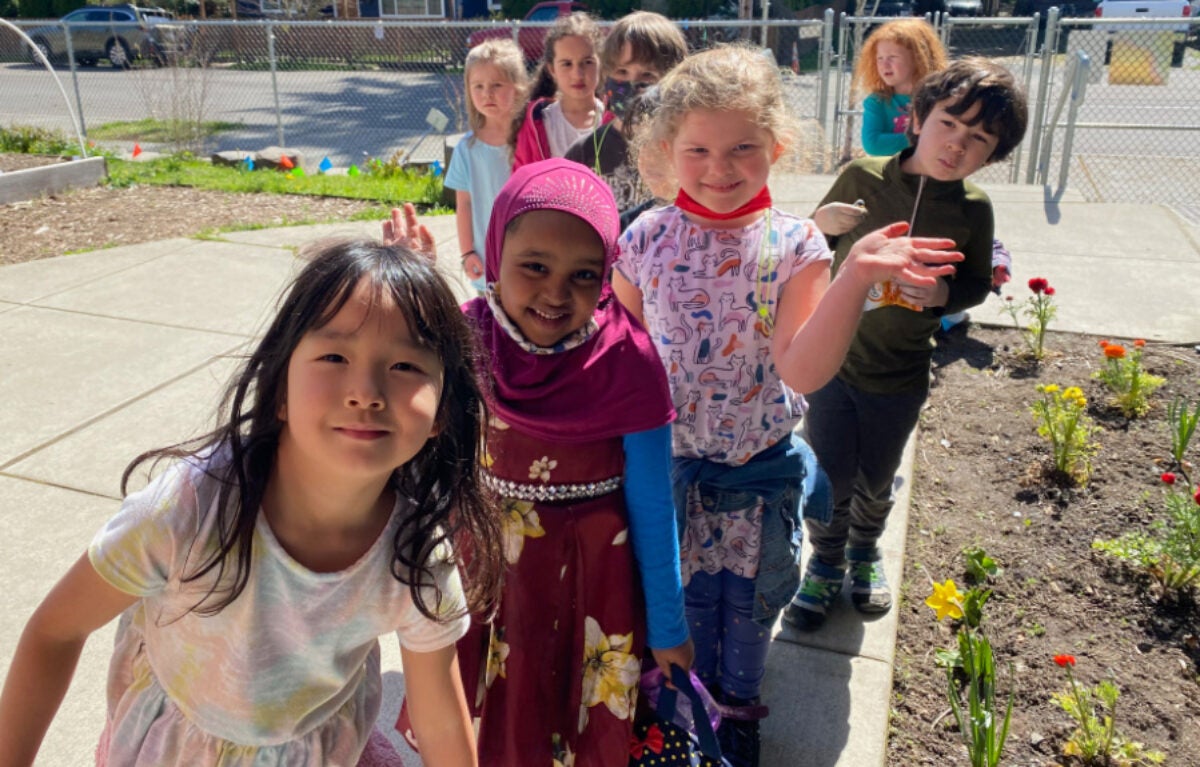 We welcome our incoming kindergartners and their families to Arbor Heights. To get ready for this transition, we have several events and activities planned before school starts in September.
Important Dates
Kindergarten Open House — June 16, 2022 (5–6 p.m.) at Arbor Heights
An opportunity for incoming kindergarten students and their families to visit the kindergarten classrooms and meet the kindergarten teachers. There will be information and tips on helping students and their families make the transition to kindergarten and how to complete the incoming kindergarten student questionnaire.
Kindergarten Kick-off — August 25, 2022 (5–7 p.m.) at Arbor Heights
A community-building event for incoming kindergarten students and their families with the kindergarten teachers — fun activities and dinner!
Arbor Heights will not be participating in Jump Start this year. Kindergarten Kick-off is the event we are doing instead.
Family Connection Conferences — September 7–9 (various times) at Arbor Heights or virtual
Kindergarten students will meet their kindergarten teacher with their family and spend time getting to know one another. Conference sign-ups will be sent out at the end of August by your child's teacher and can be in-person or virtual.
First Day of Kindergarten — September 12
It's the first day of school for our kindergarten students!
Get Registered, Stay Connected
Registration
Is your child officially registered for kindergarten?
If yes, great!
If not, would you be able to go to SPS Enrollment to complete their registration as soon as possible? As planning is underway right now for the 2022–23 school year, getting an accurate count on the number of kindergartners now helps us determine the number of kindergarten teachers and classrooms we will need and hopefully avoid having to make any major changes in late summer or early fall e.g. adding a teacher or losing a teacher.
Connections
Kindergarten Readiness
While all children grow and develop at their own pace, parents/guardians can use the list below to identify skills to help their child develop and to prepare them for lifelong learning.
Health and Well-Being
I am healthy, and my immunizations are up to date.
I have good oral health and have visited my dentist.
I am well-rested.
I can fasten my pants and put on my jacket.
I can kick balls, hop on one foot, and climb the ladder at the park.
I can eat, wash my hands, blow my nose, and use the toilet by myself.
I get at least 60 minutes a day of exercise and active play.
Social and Emotional Development
I take turns, share, and help others.
I stay focused and pay attention for 10–15 minutes at a time.
I can keep trying even when I don't know how to do something.
I enjoy following the rules and helping to make the rules.
I can work and play both independently and in a group.
I can manage my behavior with help.
I can calm myself down when I get frustrated.
Language and Communication Skills
I hear and understand the meaning of words, stories, and songs.
I use words to talk about thoughts, wants, needs, and feelings.
I speak clearly enough that other people understand.
I use complete sentences and connect ideas to make longer sentences.
I can say or sing familiar songs and nursery rhymes.
I follow one- and two-step directions such as, "Please pick up your plate and put it in the sink."
Early Literacy
I enjoy books and stories.
I can use a crayon or pencil.
I know how to use a book from start to finish and how to turn pages.
I know some of the letters of the alphabet.
I can write some of the letters in my first name.
I know rhyming words like pat, hat, cat, and bat.
Mathematical Thinking
I can count 10 items correctly.
I know primary colors and shapes — red, blue, yellow, circle, square, and triangle.
I can sort silverware into spoons, knives, and forks.
I can put together a puzzle by trial and error.
I can sort beads on a necklace in a color pattern.
I can organize four objects from smallest to largest.